A leather jacket is a trending essential that has been a part of people's wardrobes for decades. It has a history of warmth and style attached to it. But before making your first purchase, it's important to consider the Leather Jacket Buying Guide – things like quality, age, and style that fulfill the needs of your fashion sense. It's an expensive piece of clothing, often regarded as a one time investment, but a premium quality leather jacket is a classic, long lasting, and versatile piece that opens the doorway to multiple memorable styles.
Also Checkout: What Is a Cafe Racer Jacket & From where to Get it
Since the world of leather jackets is so wide it can be baffling at times to find the right type, color and size which is exactly why we have concocted this post to guide you. In this post, we will walk you through the whole process of buying a leather jacket. It focuses on the crucial factors to look for when purchasing a leather jacket so that you are not disappointed after your purchase.
Buying Guide: 5 Tips To Use When Buying A Leather Jacket
So, here is a step to step guide through all the 5 important tips to buy a Leather Jacket Buying Guide!
Tip No: 01 | Leather Type & Quality
When you are searching for a leather jacket to buy, it is important that you are well aware about the types of leather used to make jackets and know which one to pick. So, let's talk about the types and subsequently the quality appraised to different leather jackets. The most common types of leather include full-grain, top-grain, genuine, split, bonded, and faux.
Full-grain leather is the highest quality, as it is made from the top layer of the hide and has not been sanded or buffed to remove imperfections. Top-grain leather is similar to full-grain, but has been lightly sanded and buffed to remove imperfections and create a more uniform appearance. Genuine leather is made from the lower layers of the hide and is usually less expensive and more durable than full-grain or top-grain leather. Split leather is the innermost layer of the hide, and is usually used in suede and nubuck. Bonded leather is a blend of animal hide and synthetic fibers that is then covered with a protective layer. Faux leather is not actually leather, but is instead made from synthetic materials like vinyl.
Leather Grading
The next thing to explore is leather grading which is the process of assigning a grade to a leather product based on its quality and characteristics. Grading is usually done by an expert, who evaluates the leather in terms of its weight, thickness, color, grain, and other factors.
This helps to determine the grade of leather, which can range from low to premium quality. Leather grading is important for buyers to know the quality of the leather they are buying and to ensure they are getting the best value for their money.
With that being said, let's explore the types of leather available:
Full Grain Leather:
Full grain leather is a type of leather made from the highest quality hide available. It is the strongest and most durable type of leather, and has a natural look and feel that only improves with age. It is made from the outermost layer of the hide and has not been sanded, buffed, or altered in any way.
Full-grain leather is prized for its strength, durability, and ability to develop a beautiful patina over time. it is natural all of these scars and patterns detain and do not make any difference. It is quite expensive.
Top Grain Leather:
Top-grain leather is the top layer of a hide, which is the outermost layer of the animal's skin. It is the most durable and highest quality type of leather and is typically used for making Leather shoes, jackets, and accessories.

It is more expensive than other types of leather because of its quality, strength, and appearance. It is used as a fashion jacket, exceptionally flexible and thinner but remains the same throughout.
Corrected Grain:
Corrected grain leather is a type of leather that has been buffed down and coated with a plastic or polymer top coating to give it a uniform and consistent look.

This type of leather is generally less expensive than full-grain leather, but it is still durable and resistant to wear. It is often used to make shoes, bags, and other items.
Split Leather:
Leather that has been split along the grain and is usually used to make suede. It is not as strong or durable as other grades of leather but is still used for some upholstery and apparel.
Bonded Leather:
Lastly, the lowest grade of leather is made from scraps and smaller pieces of leather that have been bonded together with a polyurethane or latex coating. It is not as durable or long lasting as other grades of leather.
Tip No: 02 |Stitching & Craftsmanship
While purchasing a leather jacket the overall stitching is a determining factor in the quality of it. So, it is important for you to focus on the stitching while exploring your options.

Stitching
A good leather jacket is stitched with strong polyester threads. Decorating pockets and details are extra effort which titles it towards higher prices and premium value. The stitching should be even and consistent. You should check the inside and outside of the jacket to check if it is properly stitched.
Here at Leather Moto we provide professional and custom leather stitching services to help you create the perfect look for your leather products. We use high quality materials and the latest stitching techniques to ensure that your leather products look their best. Whether you are looking for a classic look or something more modern, we can help you create the perfect look for your leather product.
Craftsmanship
Leather jackets are crafted using the same techniques used for centuries, but with modern tools and materials. The leather is cut to the desired pattern and then stitched together using a sewing machine or by hand. After stitching, the leather is dyed, treated, and finished with waterproofing, depending on the desired look and feel. Details like zippers and snaps are added, and the jacket is ready to be worn. Good craftsmanship is evident in the quality of the leather and the stitching, as well as in the finishing touches.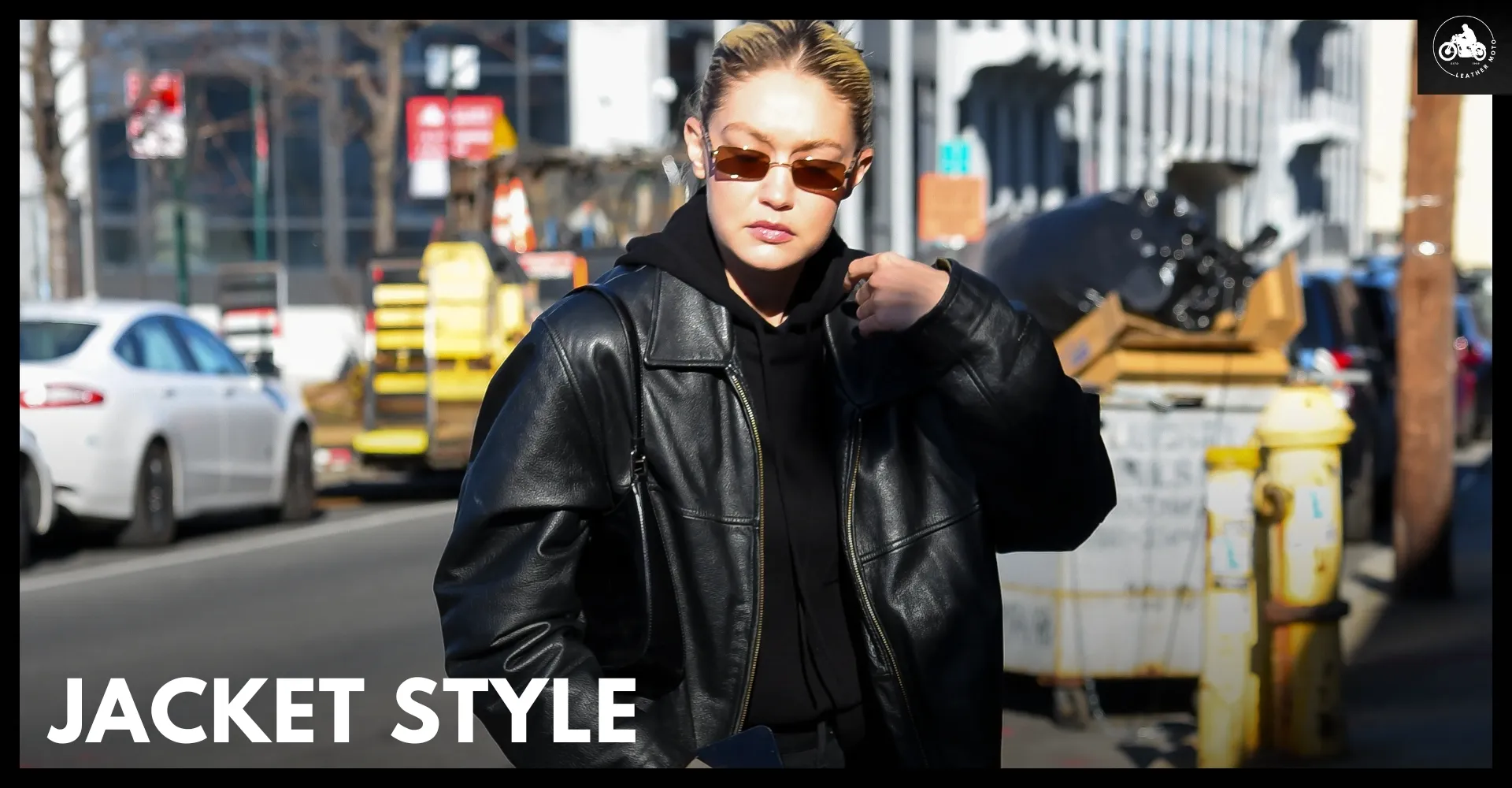 Tip No: 03 | Leather Jacket Styles
There is a wide range when it comes to leather jackets, but the catch is to look for what is trending. This is exactly what we do here at Leather Moto— always stay updated and keep up with the trends.. Some of the popular styles include the aviator jacket, the racer jacket, the bike jacket and the bomber jacket. There are also more modern styles such as the moto jacket, the blazer jacket, and the quilted leather jacket. Depending upon your choice, you can choose the jacket that suits you well.
Double Biker Jacket:
Usually available in black colors, they are a must have when it comes to leather jackets. It comes with zips, flaps and striking buttons. It is intended for bikers. Most double riders are made of cowhide jackets, which seem to be stiffer and tougher than sheepskin and are made of the best quality cowhide leather. When all other factors are equal, the double-rider, especially in black, is the most "potent" of all leather jacket designs.
Bomber Jacket:
Bomber Jackets are easy to wear with just one zip to make your outfit look sporty. Here at Leather Moto we have a variety of bomber styles available for men and women. We know what's trending and we want you to experience the hype with us. Bomber jackets have a contagious sense of style that adds drama and fluff to your wardrobe. Since they were originally conceived as a flight jacket for pilots of fighter jets during World War II they are both toasty and practical, designed to allow people wearing them to move freely while staying warm at high altitudes.

Café Racer Jacket:
A café racer jacket is a type of leather motorcycle jacket that was popularized in the 1960s. It typically features a slim fit and shorter length, with a narrow lapel and zip closure. The jacket often has a belt and epaulets, and may also feature a variety of pockets. It is typically made from heavy-duty leather, but may also be made from other materials such as denim or canvas. Leather Moto offers an extensive range of racer leather jackets that pay a tribute to the British biker culture, as well as the rock and roll subculture.
Shearling Jacket:
When you say modern yet vintage, the shearling leather jacket comes to our minds. It is distinguished by an around collar, a straight zipper, and a simple design. As we move into a colder climate, you need something to keep you cozy. These jackets are the best..

Tip No: 04 | Hardware and Accessories
Jacket hardware and accessories can include buttons, zippers, toggles, snaps, buckles, rivets, straps, and drawstrings. Some jackets may also feature adjustable cuffs, interior pockets, and waterproof fabric.
Before buying a particular jacket, one must make sure it contains quality accessories and hardware. They can be a great and easy way to judge the quality of a jacket or a brand.
Tip No: 05 | Leather Jacket Fit
The two most important aspects of a jacket is its cut and fit. These two elements have the power to make or break the look of your leather jacket, irrespective of where you bought it.
A well-cut jacket will fit you exceptionally well, and chances are you'll fall in love with it. How the jacket fits you can only be determined by the jacket's fit which you can find after wearing it.
One of the key things to look out for is the shoulder seams which are in line with and close to your shoulder points. Seams that are either too high or too low will not work.
The last two things that you need to be careful about are armholes and length. Firstly, the armhole of the jacket should be in line with the shoulder and as high as possible. This is to prevent any movement of the jacket. Secondly, the length of the jacket gives it a flattering look therefore make sure it ends at the waistline of your jeans.
Made to Measure Option:
Here at Leather Moto we offer a made to measure option. This unique custom-fit concept allows our customers to provide us with custom details about their sizes and preferences and we tailor their jackets and coats accordingly.
FAQs –  Leather Jacket Buying Guide
Where To Perfect an Affordable Leather Jacket?
High quality jackets are now available at reasonable prices, these jackets are in fashion nowadays, so you have to choose it according to your personality at minimum prices.
Should I Size Up In A Leather Jacket?
Bearing in mind that your leather jacket should be sheathed but not tight fit. There is an ongoing debate between whether you should size up or down when it comes to leather jackets, so the main advice here is to check the size chart given to you on the website of each brand to help you choose the right size.
How Long Does A Leather Jacket Last?
There is no definitive answer but an estimated timeline would be 6-7 years. It is important to note that maintaining your leather jacket can add to it's life.
How Can You Tell If The Leather Is Good Quality Or Not?
As mentioned in the guide above, there are certain elements that make or break a good leather jacket. For instance, good stitching and premium quality, so always look for the basics and pay attention to detail.
Do Leather Jackets Loosen Up With Time?
Not only do they loosen up, their quality improves with time as well. That is the uniqueness of leather, it ages like a fine wine. They develop a unique patina that adds value and beauty to the jacket.
Conclusion
In conclusion, buying the perfect leather jacket involves taking the time to determine your style preference and budget, researching the quality and craftsmanship of the jacket and knowing what features to look for, trying it on to ensure the perfect fit, and finally, considering the jacket's versatility and how it will fit into your wardrobe. With these tips in mind, you are sure to find the perfect leather jacket for your needs.
Leather jackets not only help you to protect from cold, but they can also bring you the style which you can carry in a trendy way.
For all those who want to buy a good quality and reasonably priced jacket these points are helpful for you. These factors help you determine the best type of leather jacket that will suit you and help you elevate your sense of style. If you are looking to shop for jackets without worrying about the quality and affordability then visit Leather Moto which is famous for selling premium quality, large variety and excellently stitched leather jackets.